Arlington, Dallas & Waxahachie (HQ)
ABOUT THE DFW TEAM
United K9 Academy DFW (Dallas / Fort Worth) is here!! With the growth of these cities and the growth of the dog community, United K9 will be there to help with any dog services and training needs! We have an exceptional staff that is trained and experienced. We will work side by side with you to achieve your training goals. We have a variety of programs that will help you with these specific goals. Our programs include: The Tip of the Sword Board and Train Programs, Our Elite Private Lesson Programs, The New Recruit Puppy Training, Service K9 Team Training Programs, and much more! Our staff is trained in The Science of Animal Learning Theory, K9 First Aid, and Animal Behaviors. For more info Please fill out a contact form below for your free consultation.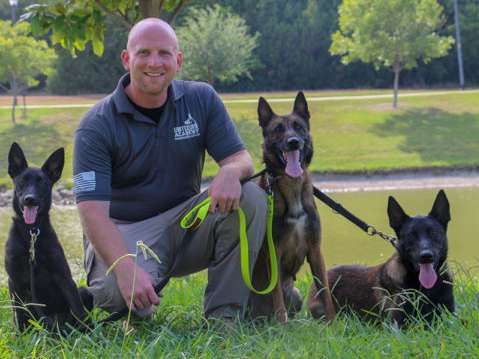 CRAIG HANNA
Owner/Trainer
My whole life I have had a passion for dogs. I have always had some kind of pet in my life but dogs have always provided me with a source of happiness, which lead me to volunteer at local shelters early on. In September 2006 I had to make a choice in my life that would take me away from my passion to help our country. I wanted to join the military as a K9 Handler but there were no slots available. Instead, I joined as a Combat Engineer. A year and a half into my first duty station, a Sergeant Major came to our company looking for soldiers to go to Mine Dog School, I jumped into action. In March 2009 my whole life changed. I was living my dream working with K9's and helping our country. One of the greatest things to come out of that training school was a dog that will forever hold a special place in my heart. Her name is MWD Raja.
After getting out of the military I knew undoubtedly what I wanted to do for a living. I started a training program in Saint Robert, MO called K9 Manners.I worked with the Waynesville and Saint Robert's, MO Animal Shelters. I left Missouri, I moved to Harker Heights, Texas in 2012 and started my company, United K9 Academy in 2015. I dedicated volunteer time every week hours to the local dogs shelters to help place dogs in their forever homes. I also volunteered time to help these dogs achieve success at remaining in their new home after adoption.
Today, I currently work with TADSAW (Train A Dog Save A Warrior), working hand in hand with Vets that have PTSD and TBI. A Great benefit of working with the TADSAW Program is getting to help veterans find compatible canine companions from the shelter system. Win-win for both the Vet and the newly adopted dog.One of my favorite passions would be working with aggressive dogs. I also enjoy helping owners to understand why and how dogs act the way they do and to help dog owners achieve the desired behaviors they are seeking from their dog.Training is a passion of mine and I look forward to sharing my years of hands on experience with you.
Lisa Bramlett
Lisa is a former US Air Force member who has worked as a veterinary assistant in 3 clinics in two different states. She found a love for animals and a keen interest in those who had behavioral difficulties that their owners could not handle. After a career in law enforcement cut short due to an auto accident, Lisa's family moved to Texas where they acquired 2 German Shepherd puppies. They came from working bloodlines and she needed help training them. They learned quickly, but the "positive only", treat-based training didn't work once they reached 2 years old and Lisa needed access to more tools and knowledge.
That is when she met Craig Hanna, with United K9 Academy. He was able to teach her how to train her dogs, and while doing so, She learned how much she enjoyed it. With Craig's instruction, Lisa earned her dog training certification and has been working with him for about 3 years. She enjoys working with dogs of all ages but is especially fond of working with puppies and rescues. Lisa loves helping them learn what is expected, so their new homes become their forever homes. She also helps dogs who struggle with a variety of behavior issues that are caused by anxiety, boredom, insecurity, fear, dominance, former abuse, and even genetics.
Lauren Winnett
My name is Lauren Winnett, I am a passionate and dedicated professional dog trainer with a goal of helping you and your dog understand one another through balanced training and behavior shaping. I have trained dogs for conformation, rally obedience, tracking and herding . I've had the privilege of helping many dogs and their owners to work through various behavioral concerns such as reactivity.
TRAINING
**Your trainer will discuss any additional required training equipment with you individually.**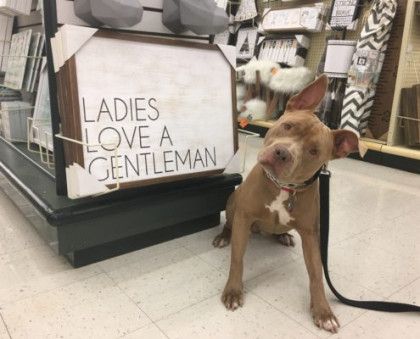 BOARD AND TRAIN PROGRAMS
Our board and train program will take place in the trainer's home and will allow for more one on one time between your pet and their trainer. During this time, you will receive updates on their progress.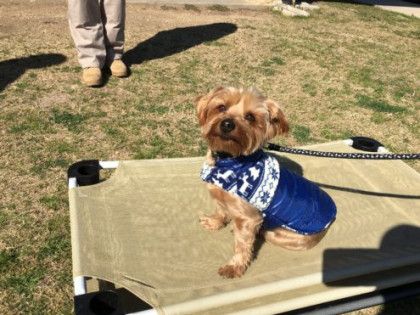 PRIVATE TRAINING PROGRAM
This 45-60 minute lesson is designed to help the handler (you) teach your own dog. During this time, the Dog Team (You and your dog) will work side by side with a professional trainer to get to the final goal that the dog team has set!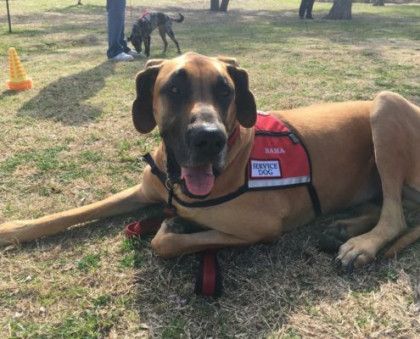 SERVICE K9'S
We are certified to train service dogs for handlers with various disabilities. Our expertise includes service K9's for handlers with mobility issues, epilepsy, and diabetes; as well as service K9's for emotional support.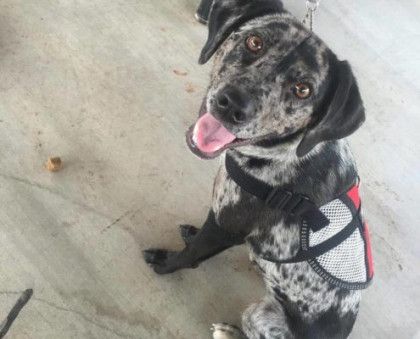 THERAPY K9'S
Therapy K9'S are for everyone! United K9 Therapy Trained Dog Teams can go to hospitals and nursing homes to bring joy to others going through a rough time! (Note: These dogs do not have full access)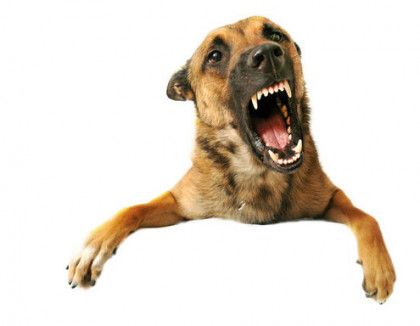 BEHAVIOR MODIFICATION
Our team is equipped to handle dogs suffering from anxiety up to red zone. We will work side by side with you to get control over any behavior issue you have with your dog.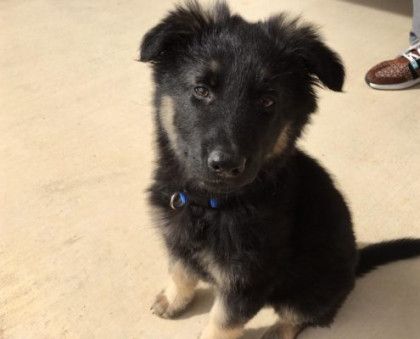 PUPPY PROGRAMS
We can work with your puppy as early as 8 weeks old up to 5 months. Our trainers will walk you through all of your training needs in the puppy stages from potty training to behavior.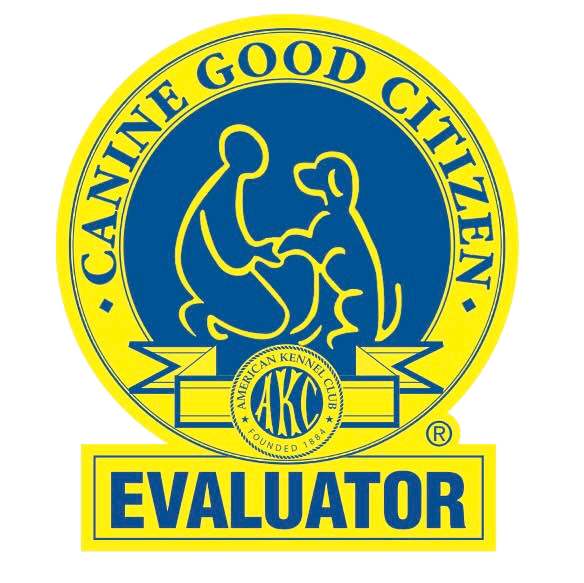 AKC TESTS AND CLASSES
United K9 Academy is a American Kennel Club Evaluator. Stay tuned for Upcoming classes and test.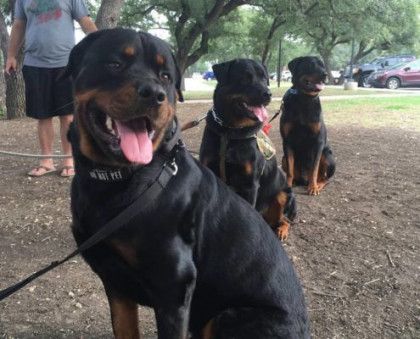 GROUP CLASSES
This is where you will work among other dog teams and professional trainers. These classes are where you and your dog will learn to work with and around high distractions. This is where all your hard work will pay off. Stay tuned for upcoming classes. Sign up for our newsletter!
OTHER SERVICES
Boarding | Dog Walking | Pet Sitting | Service Dog Testing On None Client Dogs